Windy Ridge Dairy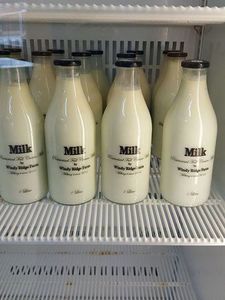 We now sell milk, not just any milk though this milk comes straight from the farm. Its Pasteurised full cream milk. Its non homonogised and non standardised so that means it has that little bit of cream on top.
Milked down in the heart of the South Otago, Benhar to be precise by Andrew Moir.
Presented in Old school glass bottles, this milk is a real treat.
It costs $7.00 for your first bottle then bring in your clean used bottle and swap it for $4.40
This Milk is the real deal and flying out of the fridge down here at Tiny's Milton Butchery
https://www.facebook.com/Windy-Ridge-Farm-882200395210871/